Sunset Vibes Silent Disco @Vista / Hermosa Beach
A SILENT DISCO FESTIVAL! 5 STAGES / 10+ DJS / LIVE MUSIC! CHOOSE YOUR VIBE!
LET'S DANCE!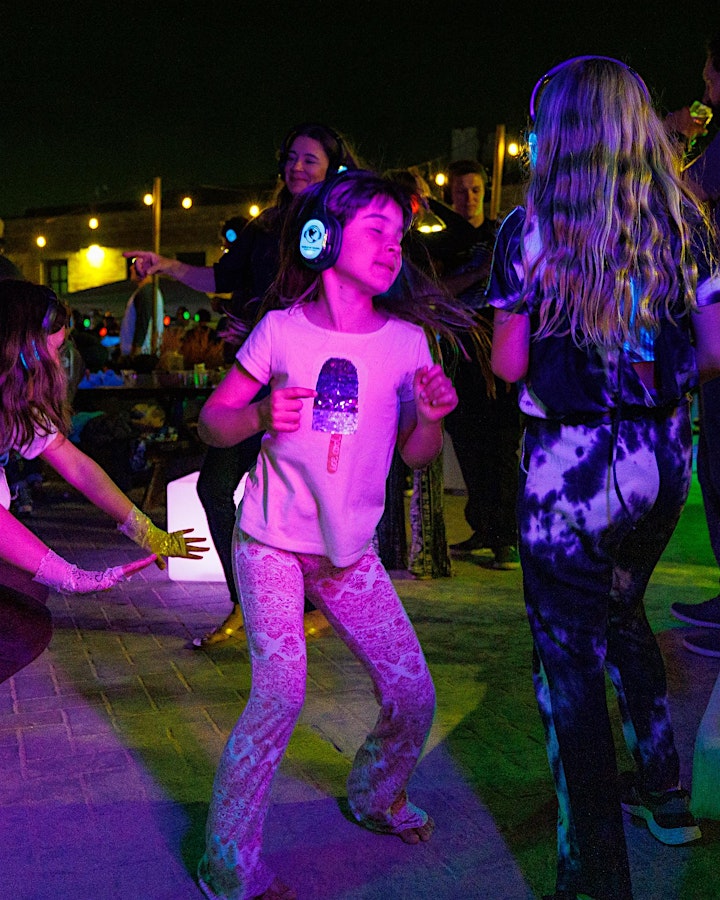 ☀️COME FOR THE SUNSET…STAY FOR THE VIBES! 🎼🎧
🕺🎶 Eat, Drink & Dance…under the stars, steps from the sand on Vista's huge outdoor patio located at The Strand & Pier Plaza. 🏖️☀
👨‍👩‍👧‍👦 Everyone is welcomed: We are proud that Sunset Vibes @ Vista offers a friendly, SAFE SPACE and attracts an extraordinarily diverse crowd, from families to ravers and ragers, to seniors and a broad range of ethnicities and gender identities. 👦🏽👦🏻👧
🍺🍸 Drink discounts (with headphones only)!
VIP Fire Pit Tables 🔥 (seats 12) & Picnic Tables for 6 : To make a reservation for a table, send an email to info@vista-hb.com or call (310-372-9797) and tell them you're coming for Sunset Vibes Silent Disco! (Minimum food & beverage purchase required). Tickets (headphones) for the Silent Disco sold separately.
WHAT TO EXPECT:
– 5 DJs (and/or live musicians) performing simultaneously on 5 stages (10+ DJs in total) spinning something for everyone (that is the goal) including: EDM, house music, nu-disco, hip hop, Latin, pop and remixes from the 70's to current day. Note: Each month we feature different DJs and live performers.
– Upon check-in, you'll receive our High-Fidelity Headphones (sanitized for your safety).
– Headphones have 5 channels which can be changed with the push of a button. Each channel glows a different color so you can see what other people are dancing to. Choose your Vibe!
– Headphone range is about 1/4 mile in every direction, so please feel free to spread out, wander and dance anywhere including the beach, pier and plaza! (Note: headphone range may vary depending on radio frequency interference.).
-A Neon Wonderland 🌟with professional lighting and high-powered black lights to make everyone GLOW!
WHAT TO BRING:
– Credit or Debit Card: We will place a $75 "Authorization" / Deposit (for each headphone) on your card while using our headphones which will be "Voided" immediately upon check-out and return of headphones. Note: It can take 5 to 10 business days (up to 2 weeks) for your credit card company / bank to release the $75 authorization and the funds released to your account (but your card is not actually charged). If you prefer, we can hold a Drivers License as a deposit while using our headphones.
– Eventbrite Ticket / QR Code: You will receive your ticket / QR Code via email from Eventbrite.
– Neon and glow toys (sorry, no fire dancing allowed)
– Positive vibes only!
OTHER INFO:
– Tickets: The only difference in "Ticket Groups" is when you buy the ticket and the price. Buy early and save.
– Parking: Most metered parking spots near the event are limited to 3 hours. Park for free up the hill on Pier Ave & Ardmore Ave. Better yet, Uber, walk or ride your bike.
ALCOHOL:
– This event at Vista's restaurant patio is on private property. PLEASE DO NOT BRING YOUR OWN ALCOHOL. Violators will be asked to leave without a refund. Alcohol may not be taken off the property. PLEASE DO NOT DRINK AND DRIVE.
PHOTO & VIDEO RELEASE:
Attendees acknowledge and allow the use of any and all photographs and video taken of you and minors in your care at the event to be used by World of Sound Productions, Inc. for any promotional purposes or any other uses without further consent. If you don't want your photo taken, please ask upon check-in.