Virtual Field Trip: THE MEGA Aquarium Visit – Free!
FREE remote learning homeschool unit explores the top-rated aquariums across the nation!
Thanks to technology you can visit top aquariums from across the nation virtually and get up close and personal with aquatic wildlife via live webcams. And it's 100% free! Please enjoy the curated list of the best aquarium live webcams – we've added tons of free downloads, facts and fun activities to enhance your remote learning aquarium experience.
When my daughter was a toddler, I used to take her to the local PetSmart so we could cruise around the fish tanks and look at all the colorful fish. I would tell her that this was The Aquarium. Her attention span was so short at her age then that it didn't make sense to spend the money on tickets nor put in all the time and effort to go to the aquarium downtown. It was so joyful to share in her wonder and amazement every time she saw a new fish and pointed excitedly asking, "Mama, what kinda fishy is that?" – our PetSmart Aquarium excursions were the highlight of my daughter's day.
When you're housebound and stuck indoors with your family for extended periods, you can get a little stir crazy. You're bored, feeling restless, and desperately want a change of scenery. Anything other than the overflowing laundry hamper, sink halfway filled with dirty dishes, dining table-now-makeshift office space cluttered with remnants of the kids' crafts project from yesterday. Get lost in these educational live aquarium cams, activities, coloring pages and fun facts!
Georgia Aquarium Virtual Tour
Save the Belugas!
The Georgia Aquarium, a leader in marine mammal conservation and research, is committed to working with beluga whales in their care and in their natural habitats. Their team works to understand the factors threatening the sustainability of belugas in the wild so that steps can be taken to protect these animals. By studying and observing beluga whales in human care, they are able to create baseline indicators to understand issues that threaten this species in the wild. Majority of this research would not be possible to conduct in the wild due to the remote locations and extreme climate inhabited by belugas. Through past research, the team has gained insight into the effects of underwater sound levels on belugas, their nutritional needs as they face increasing challenges for food sources, and how belugas respond to increasing pathogens and changing water temperatures in the wild.
10 Fun Facts about Beluga Whales
It is common for belugas to form groups, called "pods", of 2 to several dozen individuals.
Belugas are sometimes called "sea canaries" due to the extensive variety of sounds they can make!
Belugas do not chew. Larger prey may be torn into smaller pieces, but most food is swallowed whole.
Echolocation is used to find prey in murky water.
Beluga whales can swim backwards, helping them navigate icy waters
The white color of a beluga's skin is thought to provide camouflage among sea ice.
A beluga's skin is ten times thicker than dolphin skin and one hundred times thicker than terrestrial mammal skin.
Blubber accounts for 40-50% of the beluga's weight.
The beluga's brain lacks an olfactory system (sense of smell).
Rather than a dorsal fin, which would be prone to injury from ice and heat loss, a beluga has a dorsal ridge.
What are the Beluga Whales up to now at the Georgia Aquarium? Find out here!
The Ocean Voyager: a Big Exhibit for Some Really Big Fish!
The Ocean Voyager exhibit was built specifically to house whale sharks, which are the largest fish species on the planet! The exhibit features a 100-foot long underwater tunnel and one of the largest viewing windows in the world at 23'H x 61'W x 2'D. With 4,574 square feet of viewing windows weighing 185 tons of acrylic, the Ocean Voyager holds over 6.3 million gallons of water, making it one of the world's largest single aquatic exhibits. Visitors will have plenty of opportunities to get spectacular views of the 50+ species featured in this exhibit containing whale sharks, manta rays, reef sharks and more!
Ready for some fin-tastic views under the sea? Click here for the Ocean Voyager live webcam.
Free Digital Wallpapers
Love belugas or whale sharks? Take one home with you "virtually" by downloading one of the digital wallpapers from the Georgia Aquarium provided below. Just right-click on the image, save file, then enjoy your new aquatic friend to your heart's content!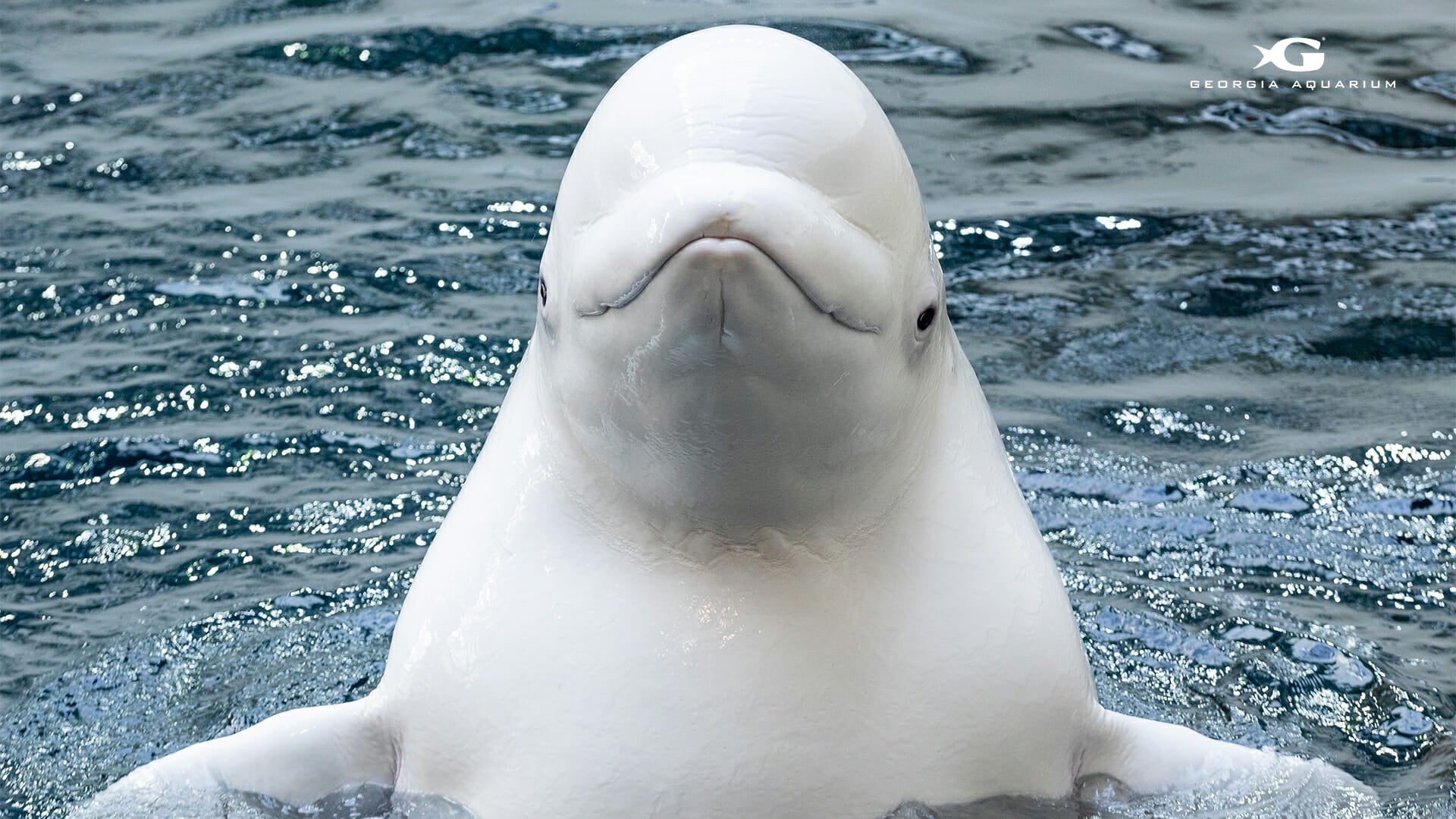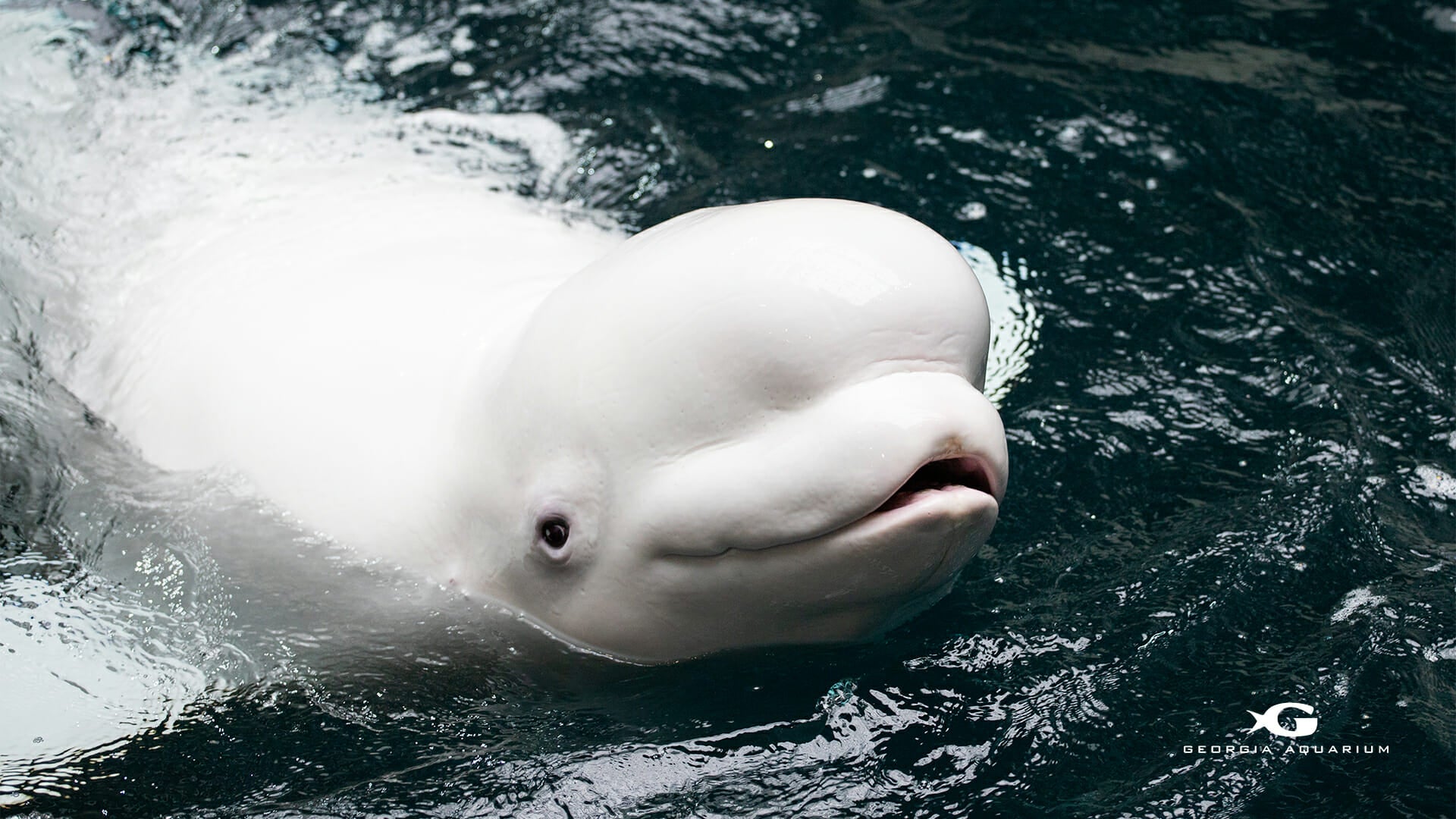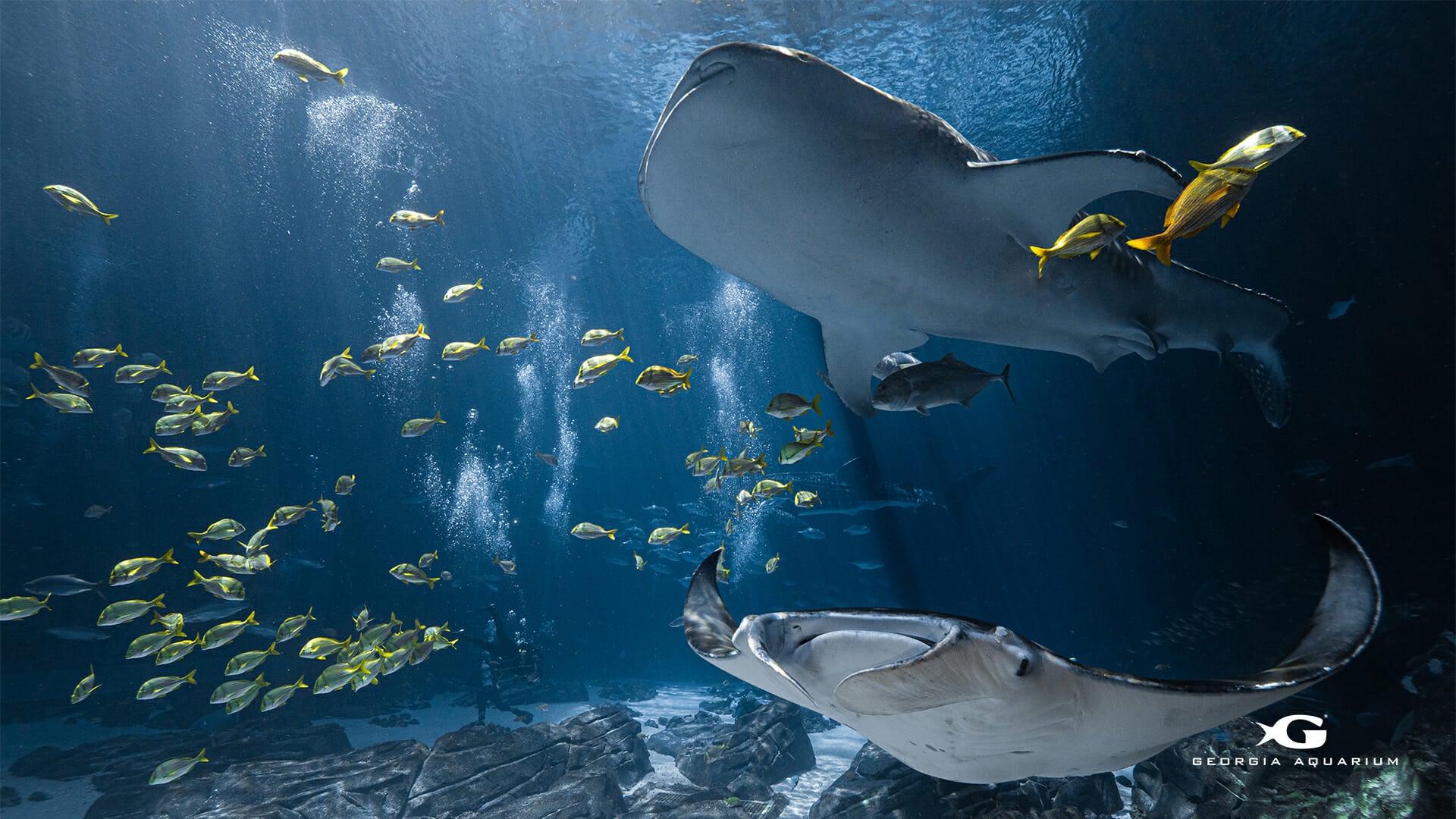 Tennessee Aquarium Virtual Field Trip
Deep Blue Sea-cret Reef Exhibit
About 115 miles southeast of Galveston, Texas lies a hidden gem–a beautiful, exotic, multi-colored coral reef system known as the Flower Garden Banks National Marine Sanctuary. The Tennessee Aquarium's Secret Reef Exhibit was inspired by and designed after the real life Flower Garden Banks reef system. The Secret Reef is a dimly-lit saltwater exhibit featuring mystical underwater music and some of the aquarium's more fearsome animals like the sand tiger sharks and sandbar sharks. The Secret Reef is also home to thousands of vibrant, colorful fish in additional to rescued green sea turtles.
Enter the Secret Reef's livestream here.
Turtle Printables
The Tennessee Aquarium offers some free activities and resources for an at-home aquarium experience that you and your children can enjoy. Keep the kids entertained and let their inner artists shine with these turtle coloring pages, which are based on real art displayed throughout the Aquarium. If you prefer puzzles to coloring, then download this turtle activity sheet containing turtle-themed word search, connect the dots, maze and more!
Aquarium of the Pacific Online Exhibits
Honda Blue Cavern Exhibit: Modeled after Blue Cavern Point
The Aquarium of the Pacific is Southern California's largest aquarium and the 4th most attended aquarium in the nation. With a mission to "instill a sense of wonder, respect, and stewardship for the Pacific Ocean, its inhabitants, and ecosystems," all of the aquarium's 12,000 animals and 100+ exhibits celebrate the Pacific Ocean. The Honda Blue Cavern Exhibit is no exception.
The Honda Blue Cavern Exhibit is one of eighteen total exhibits that make up the Aquarium of the Pacific's Southern California/Baja Gallery. Modeled after Blue Cavern Point, a kelp forest located along the northeastern coast of Santa Catalina Island, the Honda Blue Cavern exhibit stands an impressive three-stories high and holds 142,000 gallons of water. The exhibit features ocean inhabitants found off the coast of Catalina Island such as leopard sharks, California moray eels, and giant sea bass.
Quick Facts about Kelp
Kelp, or seaweed, is not a plant. It's actually algae!
Kelp grows really fast. It can grow up to two feet per day under perfect conditions.
A kelp forest has three main layers: canopy, mid-layer, and bottom (aka holdfast)
For more cool information on kelp forest habitats, watch this video:
Dive into the beautiful underwater kelp forest habitat at the Honda Blue Cavern exhibit by checking out their live webcam!
I Can't Kelp Myself
I love a good pun. Kelp is a good punny substitute for words such as help, felt, belt, and held. Kelp yourself to these examples below:
below the kelp (below the belt)
asteroid kelp (asteroid belt)
fuzzy kelp (fuzzy felt)
it kelp like a kiss (it felt like a kiss)
hand-kelp camera (hand-held camera)
privately kelp company (privately held company)
self-kelp group (self-help group)
kelp wanted (help wanted)
What other kelp-themed puns can you come up with?
National Aquarium Onine Visit
Blacktip Reef
The coral-filled Blacktip Reef exhibit replicates the real life Indo-Pacific reefs. Animals featured in this exhibit:
Clown Triggerfish
Emperor Angelfish
Guineafowl Puffer
Harlequin Tuskfish
Slingjay Wrasse
Spotted Unicornfish
Wobbegong Shark
Experience the Blacktip Reef by visiting the 24-hour livestream here.
Pacific Coral Reef
As part of the North Atlantic to the Pacific gallery, the Pacific Coral Reef exhibit reflects the amazing diversity of aquatic life that inhabit these beautiful and unique habitats.
FUN FACT: although they only occupy 1% of the ocean floor, coral reefs support an estimated 25% of all marine species!
Some animals featured in the Pacific Coral reef exhibit:
Garibaldi
Horn Shark
Yellow Sea Cucumber
Yellow Tang
Experience the Pacific Coral Reef by visiting the 24-hour livestream here.
Fun and Free Aquarium Activities to Enjoy at Home!
Word Search Puzzles

Coral Reef
Octopus
Jellyfish

Make your own socktopus
Ocean-themed ABC Coloring Pages

A & B (Anemone & Bioluminescence)
C & D (Coral & Dumbo Octopus)
E & F (Estuary & Frogfish)
G & H (Giant Clam & Hammerhead)
I & J (Ice & Jellies)
K & L (Kemp's Ridley & Lobster)
M & N (Mangrove & Nudibranch)
O & P (Oarfish & Peacock Mantis Shrimp)
Q & R (Queensland Grouper & Ray)
S & T (Sawfish & Tasselled Wobbegong)
U & V (Urchin & Vaquita)
W & X (Wolf Eel & X-ray Tetra)
Y & Z (Yellow Tang & Zebra Mussel)
Monterey Bay Aquarium eLearning
I Don't Think You're Ready for This Jelly!
The Monterey Bay Aquarium is all about these jellies.
Lion's Mane Jelly: colorful with an extremely toxic sting although human fatalities are rare. Lion's mane jelly is considered a giant jelly. Its bell can reach 8 feet in diameter with tentacles over 100 feet long!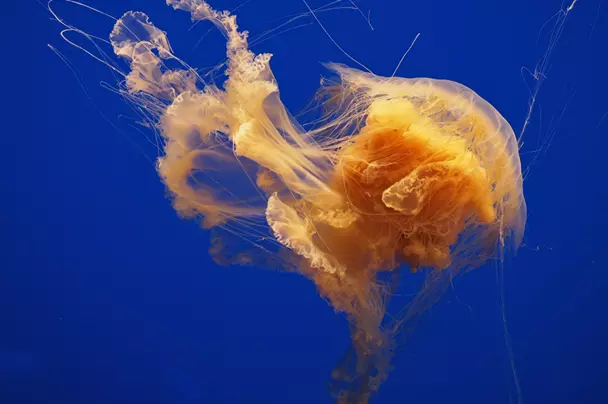 Egg-Yolk Jelly: looks like what you'd expect if you took the insides of a raw egg and put it in jellyfish form. The egg-yolk jelly has a three-foot translucent bell with a rich yolk-yellow center and hundreds of tentacles clustered at the bell's margin. This particular jelly acts like an underwater spider that captures other smaller jellies into swim its web of tentacles.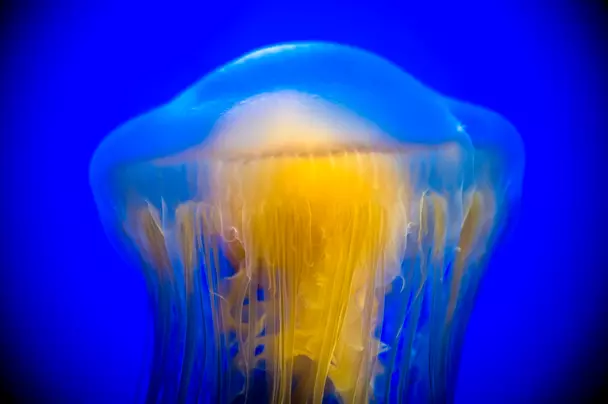 Purple-Striped Jelly: mature purple-striped jellies are silvery white with deep purple bands. Although beautiful to admire, don't get too close. Their sting may not be fatal but it is still rather painful.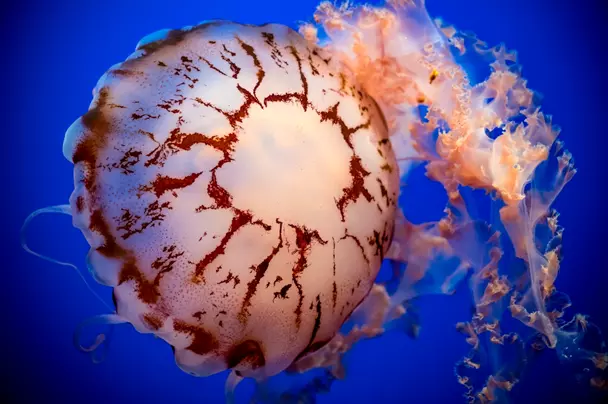 Moon Jelly: named for the way its translucent bell resembles a full moon, the moon jelly has short tentacles and its bell can grow up to 24 inches in diameter.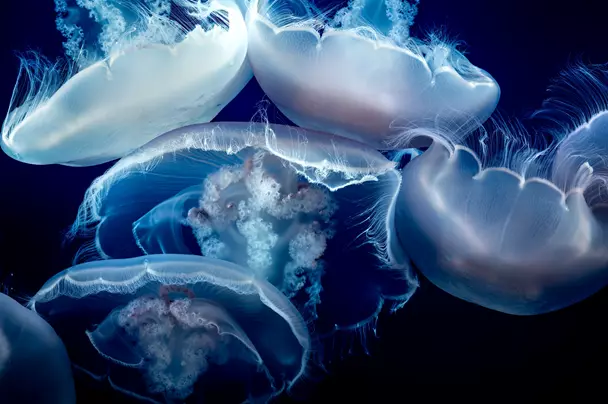 Sea Nettle: although delicate and graceful in looks, the sea nettle has long tentacles and lacey mouth-arms that are dangerous to tiny drifting prey. The frilly mouth-arms are covered with stinging cells that paralyze and stick tight to any prey that touch them.
Black Sea Nettle: with a purplish bell that can reach over 3 feet in diameter, the black sea nettle is considered a giant jelly. Its stinging tentacles can reach 25 feet or more, and its lacy, pinkish mouth-arms can reach nearly 20 feet in length!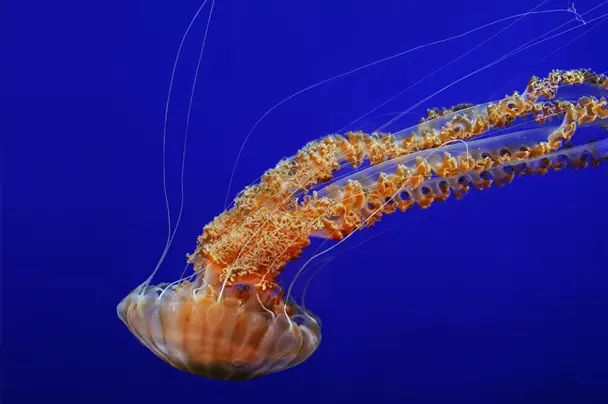 Comb Jelly: named after the eight rows of tiny comb-like plates that it beats to move itself through the water, the comb rows of the oval-shaped comb jelly diffract light as it swims, producing a beautiful shimmering rainbow effect. Other jellies beware! The comb jelly preys on other jellies and can expand its stomach to hold prey nearly half their own size.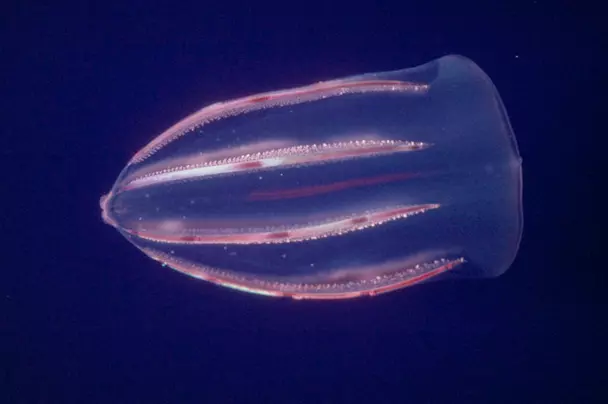 Crystal Jelly: the crystal jelly has a nearly transparent bell and long wispy tentacles. Its mouth expands when feeding so it can swallow other jellies more than half its size! The crystal jelly gives off a green-blue glow when disturbed because of the tiny, light-producing organs surrounding its outer bell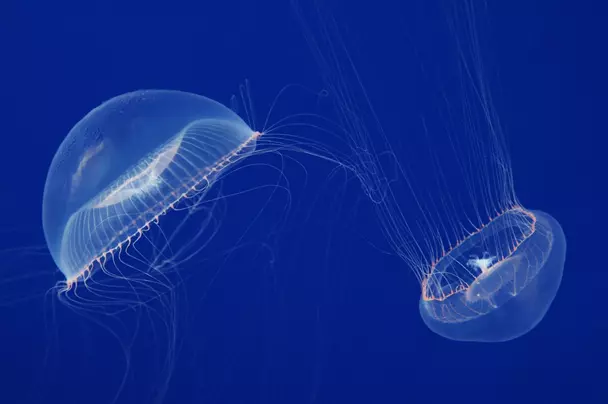 Test Your Jelly Knowledge: What Kinds of Jellies Can You Identify in the Open Sea Cam?
Watch More Jellyfish Live Cams
Free Download: Jellyfish Coloring Sheets
As the Monterey Bay Aquarium has shown us, jellyfish come in many colors, shapes, and sizes. What color jellyfish would you like to see? Let your imagination run wild and color your own jellyfish with this free jellyfish coloring page.
Ever since I was a little girl, I always enjoyed aquariums. There's something so soothing about the ambient noises made by the air and water pumps, the gentle hum of the lights and water heater, occasional splashes made by fish as their fins slap against the water's surface, and even that mild earthy aroma that reminds me of a lake. I loved watching the fish and other aquatic creatures just swim around. We're enjoying all these fun virtual aquarium cams and activities from home, I hope you do too!
---