Getting to Know Kabrita Goat Milk Toddler Formula
Getting to Know Kabrita Goat Milk Toddler Formula
In recent months, baby formula has been on the minds of many moms and moms-to-be. Many are choosing goat milk formulas such as Kabrita. While nothing can mimic breast milk, Kabrita stays very close to its makeup. See why we think Kabrita Goat Milk Toddler Formula is a great option.
Choosing the Best Formula for a Toddler
This is a sponsored post, but we are selective on the companies we work with to ensure they align with our community.
When my first child was born, I had every intention to breastfeed him; however, after struggling with it, I quickly concluded that it might not be an option for me and began researching my baby formula options.
Frustrated and upset, I called my pediatrician to discuss my options, and I remember her asking me, "What do you want to do?" I expressed that I wanted to feed my son in any way possible. Her response was, "Great answer." Soon after, we switched my son to formula, which was easily one of the best decisions I made for my family.
When I was pregnant with my second, we thought we would look into different formula options, just in case. One of my friends recommended Kabrita, a goat milk formula. It honestly had never crossed my mind to consider goat milk formula. Still, once my husband and I started researching goat milk's benefits and gentle nature and spoke to our pediatrician, we agreed that it was a good choice and something we wanted to try with our second child.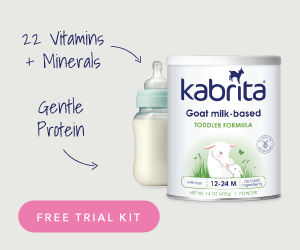 Why Choose Kabrita Goat Milk Formula?
Easy to digest goat milk proteins
Nutrient-dense, including iron
Essential fatty acid
Gut friendly prebiotic
If your child is experiencing a cow's milk protein sensitivity, it can result in worrying symptoms like digestive problems or skin rashes. Fortunately, alternatives such as high-quality goat milk formulas can meet all your baby's nutritional needs without the uncomfortable irritations. Speak to your pediatrician about switching to a goat milk baby formula.
Goat milk formulas are designed to provide optimal nutrition to promote growth and meet the needs of a baby or toddler's digestive system. Like all goat milk formulas, Kabritas has added vitamins and is fortified with minerals to give babies the very best start in life. Kabrita goat milk formula is fortified with 22 vitamins and minerals, including iron, choline, vitamin D, and B12. Kabrita formula also contains fatty acids, ARA, and DHA to help promote a healthy brain and nervous system.
Kabrita has years of experience producing quality goat milk formulas.
Benefits of Kabrita Goat Milk Toddler Formula
When researching goat milk formula alternatives, I started by learning the benefits of goat milk vs. cow milk. I found that there is a lot of natural goodness in goat milk!
Goat's milk protein is easy to digest
Naturally rich in vitamins and minerals, such as calcium
Contains minerals that are easily absorbed by the body
Has lower amounts of lactose than cow milk (for lactose sensitivities)
Several companies have harnessed the natural benefits of goat milk protein by creating a goat milk-based formula. They do this by suitably adapting and fortifying goat milk (this is very important for the safety of little ones!).
The main ingredient in Kabrita Goat Milk Toddler Formula is, you guessed it, goat milk! Goat milk infant formulas, especially those made with whole cream goat milk, can provide your little one with essential nutrients that closely match those found in cow and breast milk. It is a suitable infant formula option for babies with sensitive tummies. Kabrita has added prebiotics for digestive support and immune support.
Goat's milk naturally contains high levels of phospholipids which are the compounds that contribute to brain development. Both organic goat's milk formula and natural goat's milk formula can contribute to brain development.
Goat's milk also contains higher concentrations of essential fatty acids. Also known as medium chain triglycerides, these fatty acids are easily converted into energy and are less prone to fat storage than other types of fats.
When transitioning a baby from breast milk to formula, switching to something easy to digest without compromising quality and ingredients is essential. Kabrita helps you do just that.
It is important to note that if your baby is lactose intolerant, goat milk formula will not likely be an option for you. This is because lactose is also present in goat milk. The good news is that it's rare for children under five years of age to show signs of lactose intolerance — as breast milk is also a natural source of lactose.
Best Goat Milk Formula for Toddlers
My next step was to compare several goat milk formulas based on these two factors:
The quality and purity of the goat milk (organic/non-GMO/pastured)
What had been added to the formula, both the positive nutrients and the problematic preservatives, artificial colors, flavors, etc.
What I found most impressive is that Kabrita is made in the Netherlands using non-GMO goat milk. It is free of growth hormones and heavy metals. It is the only Dutch goat milk formula sold in the US to be certified free of Glyphosate (a pesticide).
Difference Between Goat Milk Toddler Formula and Baby Formula
The main difference between toddler and infant formulas is that toddler formulas contain a greater amount of calcium and phosphorus. They are designed to match children's higher calcium and phosphorus levels as they grow, similar to the levels found in whole milk.
The results have been very positive in speaking to other moms who have tried goat milk formula. Babies and toddlers seem to genuinely like the taste of goat milk formula, and it is well tolerated.
Where Can I Buy Kabrita Goats Milk Toddler Formula?
If you are interested in trying out Kabrita Goat Milk Toddler Formula* for your family, Kabrita will send you a FREE container. Click here for details!
I enjoyed reviewing the Real Mom Stories that Kabrita USA shares on their blog that detail other families' experiences using the product and how it has benefited their little ones. Parents tell Kabrita that they see improvements with tummy troubles, rashes, and eczema when they make the switch! Kabrita goat milk formula is gentle on tiny tummies.
It is important to remember that fresh goat and cow milk are not suitable for babies under 1 year of age. Children this age need specifically formulated infant formula to meet their nutrition needs, like the formulas Kabrita offers. If in doubt, please consult with your pediatrician.
*Note: Kabrita Goat Milk Formula Powder for Toddlers is made in the Netherlands. At this time, Kabrita Goat Milk Toddler Formula is available for purchase in the United States. Kabrita is working through all the regulatory steps required by the FDA to market its infant formula in the US.